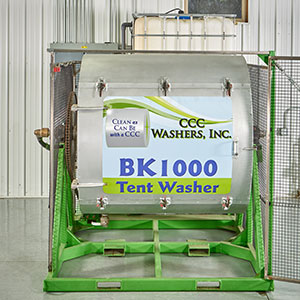 BK 1000™ Key Features
The BK1000™ has a 1000 sq. ft. capacity and includes two 250 gallon tanks: a heated wash water tank and a tank for rinse water. Wash and rinse water can be recycled if tent sections are lightly soiled. This environmentally friendly feature also saves money by reducing labor, time, and water resources.
All units can be wired for either a single phase service, or a 3 phase service. No additional hook up is needed.
1000 sq. ft. capacity
Portable
Dual water tanks
Water recycling system
Automatic & manual modes
Easy loading and unloading
Reliable chain-driven mechanism
Easy to clean reusable filters
Installation & Service
After purchase and deliver of your CCC Washer, we include set up and hands on training. Typically after the installation and training, very little or no service is required. If you have a need, just give us a call. We include a one-year warranty on parts and a five-year craftsmanship warranty of the barrel and frame.
ELIMINATED COMPLAINTS FROM CUSTOMERS REGARDING THE CONDITION OF OUR TENTS

"Since buying the CCC Washers Model BK2000 our cleaning results have been infinitely better. We are much more efficient due to the fact that once loaded, the warehouse men can attend to other important chores while only checking on the cleaning process periodically. Consequently, more tops and sides are cleaned in a much shorter time span and most importantly the results are far superior. We have literally eliminated complaints from customers regarding the condition of our tents."
Howard Pinsker, President
Rent-All City, Inc.
St. Petersburg, FL
CHRISTMAS IN NOVEMBER

"Since we have been home we have had the machine going constantly and our tents and walls look fantastic. This is a "game changer" and is going to make a huge difference in the quality of our presentation. We are the leader in our industry in our area but this sets up apart. I would highly recommend Jay, Jenny, and their tent washers."
Brad Buchanan
President/Owner
Avalon Event Rentals Inc
CUT OUR WASHING TIME IN HALF

"I wanted to take a moment to write about the pleasant experience we have had with Charnecke after purchasing a CCC Washers – BK2000 tent washing machine. Purchasing this item has changed the way we process our tents for rental. The unit saves us both time and money, eliminating the extra labor needed to hand wash each tent, as well as cutting the washing time in half. Not to mention, it makes our older tents look brand new again."
Heather Post
Events Unlimited Tent & Party Co.
Saugerties, NY
ACTUALLY GETS OUR TENTS CLEAN

"We have had our washer for two and a half years and couldn't be happier with our decision to purchase it. We, like most companies, had been washing our tents by hand, and like most, seeing the poor results: pinholes from dragging across asphalt, half-cleaned tents, cleaning solutions not getting rinsed."
Steve Birdseye
Majestic Tents & Events
Rochester, MN
CUTS OUR LABOR TIME IN HALF

"Having purchased your BK 2000 a year ago, I thought I would take the time to let CCC Washers know how wonderful the tent washer is. Prior to purchasing the BK 2000 we washed our tents and sidewalls with floor scrubbers, mops, and brooms. After washing the first tent with the BK 2000 there was no comparison to our past results."
Douglas G. Lewis
Goff Tents and Events
Nicholasville, KY
CUSTOMER REVIEWS INCREASED ON HAVING SUCH BEAUTIFUL AND CLEAN TENTS

"For years we have attended rental shows and have had our eye on the tent washing machines from Charnecke's Tents. A few years ago we finally decided it was time to make a purchase. This machine is phenomenal. We have saved not only valuable time but also labour costs, not to mention the reviews Encore Tents has received on having such beautiful and clean tents. Charnecke's Tents has always provided exceptional customer service and quality products to us which makes doing business with their company an easy decision."
Harry Jeninga-Owner
Encore Tents
Colborne, Ontario – Canada